Welcome to the 2017 CBRA Season!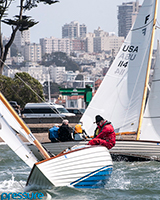 The CBRA is the place for Classic One-Design Fleets, like Santana 22's, Alerion Express 28's, Cal 20's and the classic Wooden Boats like Folkboats, Bears, Birds, IODs and Knarrs.
There are 5 scheduled race days for the CBRA this year, with 2 races scheduled for each day, making up an 12 race series. Racing kicks off on May 13th on the Berkeley Circle. Some fleets also have invitational race days scheduled, with separate entry fees required.
2017 Schedule
05/13/17 – CBRA #1
06/10/17 – CBRA #2
08/06/17 – CBRA #3
09/02/17 – CBRA #4
09/30/17 – CBRA #5
Download the NOR HERE
Download the SIs HERE and the Amendment to the SIs HERE.
Sign up for the CBRA season, download the NOR and SI's, and check on results and Series Standings after 1/1/17
Class Flags
CBRA Officers