Welcome to the 2018 OYRA Season!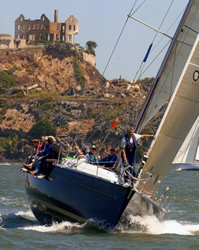 If the call of the ocean is impossible to resist, then the OYRA is your Racing Venue! Any sailboat, whether a monohull racing under PHRF, a One-Design class, or a Multihull with a current BAMA certificate, that meets the OYRA Equipement Requirements can join in on the fun and adventure.
There are 9 races scheduled for the OYRA season this year, with the Full Crew Lightship Race on April 21 kicking off the season.
2018 Schedule
04/21/18 – Lightship Race
05/12/18 – Duxship
06/09/18 – Farallones Race, Hosted by San Francisco YC
06/23/18 – One Way to Half Moon Bay, Hosted by Half Moon Bay YC
07/21/18 – Jr Waterhouse, Hosted by Richmond YC
08/04/18 – Race Committee's Choice, Hosted by Berkeley YC
08/18/18 – Drakes Bay I, Hosted by Corinthian YC
08/19/18 – Drakes Bay II, Hosted by Corinthian YC
09/22/18 – Race Committee's Choice

Sign up for the OYRA season HERE.
Please review the OCEAN SAFETY page for more information on OYRA Equipment Requirements.
OYRA Fleet Breakdown
OYRA Board