Welcome to the 2017 YRA Season!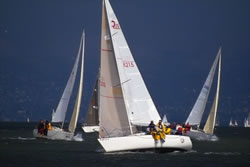 The YRA Series offers racing for almost any type of boat- From any boat racing under PHRF, to Sport Boats and Modern One-Design fleets.
There are 4 scheduled race days for the YRA Series this year, with 2 races scheduled for each day, making up an 8 race series. Racing kicks off on May 20th on the City Front. There are 3 race days scheduled in the Central Bay and 1 race day scheduled in the South Bay. One-Design fleets are welcome to pick and choose any race days from the 4 race day series. Sportboats and PHRF boats are encouraged to sign up for the full series!
2017 Schedule
05/20/17 – YRA #1 – City Front
06/24/17 – YRA #2 – Berkeley Circle
07/22/17 – YRA #3 – South Bay
08/05/17 – YRA #4 – Southampton
Download the NOR
Sign up for the YRA season, download the NOR and SI's, and check on results and Series Standings after 1/1/17.
Class Flags
YRA Officers
Rich Pipkin
President
510-377-3269