The 2016 Great Vallejo Race will be here before you know it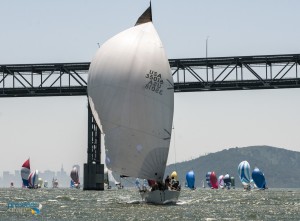 It's always a tough call- what's more fun, the race to Vallejo or the party at Vallejo Yacht Club Saturday night? The racing will for sure be top notch this year, with Saturday dual-scored under regular PHRF and Downwind PHRF, not to mention new overall awards that combine your Saturday and Sunday placings. Vallejo Yacht Club has been hard at work on the party as well. Food Vendors will be back this year, along with Live Music all afternoon.
Speaking of food, plenty will be available at the Post Race Celebration, starting around 3:30pm and running till 7 pm. Food Choices will include a Seafood Vendor and a BBQ dinner that will include Ribs, Chicken, Hamburgers, Hotdogs or Veggie Burgers. BBQ dinner prices will vary, from approximately $9 to $16, depending on your order. The Seafood vendor, Nellies Oysters, will offer similar prices for items such as Oysters, Fish and Chips, Calamari and Prawns. There will also be breakfast and good coffee available on Sunday, with breakfast running around $6 to $9.
Have you signed up yet? What are you waiting for! CLICK HERE to sign up today!