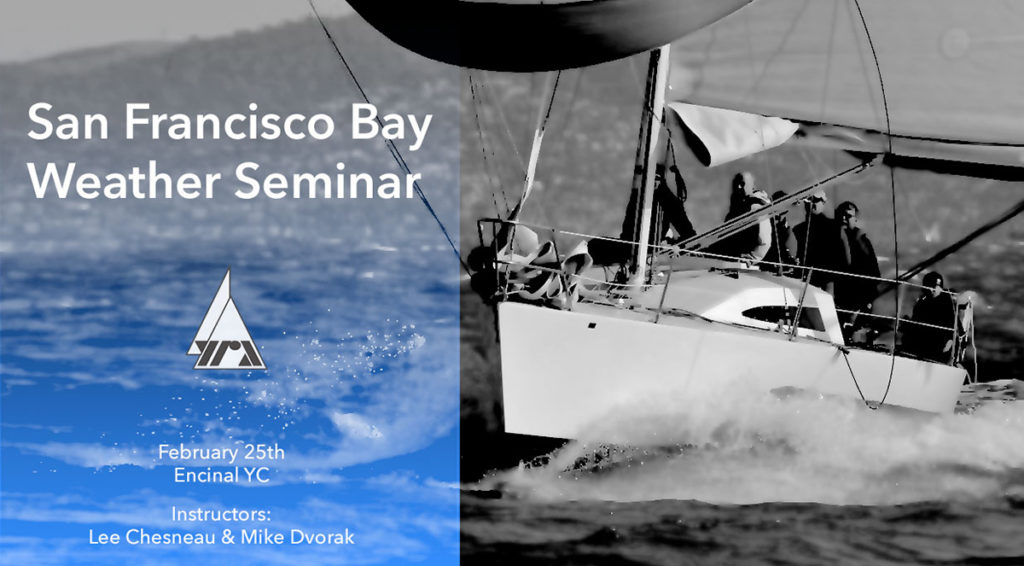 How are your marine weather skills? Are you proficient in reading weather charts and wind and wave charts? Do you understand sea breezes and the effects of San Francisco Bay topography? Are you curious about the future of forecasting? Do you think a better understanding of our local weather will help make you a better sailor?
The YRA is proud to announce a seminar that can help you with all of the above, and more!
Please join us on Saturday, February 25th, at the Encinal Yacht Club, for a San Francisco Bay Weather Seminar. This full day seminar is being lead by Mike Dvorak of SailTactics.com and Lee Chesneau of WeatherByLee.com. Tickets to the event are only $70 and include a full day of instruction by Lee and Mike as well as a post seminar gathering complete with complimentary beer.
The seminar will cover the following topics:
The Big Weather Picture * 8:00 am – 12:00 pm, lead by Lee Chesneau
Larger weather patterns (synoptic scale) and how they affect the San Francisco Bay
Reading weather charts (basic terms and symbols used in weather charts)
Surface pressure maps
Reading wind & wave charts
Unlocking the mystery of the 500 mb chart
Long range planning using Pilot Charts for long range passage planning
Evaluate and analyze weather charts
Assessing your marine weather skills (learn to be self-reliant)
Evaluate weather charts for initial route determination & underway diversions
Lunch * 12:00 pm – 1:00 pm – Box lunches are not included in the cost of the seminar but will be available for purchase at the Encinal YC. Seminar attendees can also purchase food from the Encinal bar menu.
Impacts to Local Weather * 1:00 pm – 5:00 pm, lead by Mike Dvorak
The marine boundary layer – where we sail
Monthly climatology of San Francisco sailing weather
Sea breezes and the effects of topography on the San Francisco Bay
Anatomy of a weather model
High-resolution weather models and accuracy
Limits of forecasting
Future of forecasting – observations and data assimilation
Weather routing – applications and examples
Curious about our seminar speakers?
Lee Chesneau
Lee is a senior marine meteorologist and lecturer. He graduated from the University of Wisconsin (Madison), a university renowned for its meteorology program. Lee's had a distinguished & extensive career with NOAA's National Weather Service (NWS), NOAA Satellite Service (NESDIS), U.S. Navy Ship Routing Officer (SRO), a Route Analyst for a commercial weather & ship routing company (Ocean Routes, Inc.). Lee started his career as a naval officer, serving on two aircraft carriers, USS Saratoga CV-60, and the USS Guam LPH-9. He later served as the USS Guam's meteorological and oceanographic officer. Lee is a U.S. Coast Guard certified instructor for basic and advanced meteorology. He teaches at six continuing training institutions for professional mariners. He offers the same curriculum to recreational boaters through classes that train boaters to becoming self-reliant in their own marine weather knowledge, weather forecasting, strategic vessel routing, and prudent decision making. Lee is also a speaker at numerous boat shows and Safety at Sea Symposiums. He has his own company: Lee Chesneau's Marine Weather www.marineweatherbylee.com.
Mike Dvorak
Mike is the founder of SailTactics.com, in addition to being a wind energy consultant at Weather Tactics and Chinook Wind. Sail Tactics began as a curious research project to see if Mike could forecast the complex winds of the San Francisco Bay during the 2013 America's Cup. Mike got into high-resolution wind forecasting while researching turbulence in wind farms at the University of California, Berkeley. He is an avid renewable energy researcher who analyzes the temporal and climatological characteristics of wind energy resources, primarily using weather models. During his PhD studies in civil and environmental engineering at Stanford University, he found that it was feasible to design and interconnect the replacement of all US East Coast and California electricity generation with clean, renewable offshore wind energy. Mike specializes in geographic information systems, high-performance computing, atmospheric science, and public speaking/teaching about meteorology, climate change, and renewable energy.
We look forward to seeing you on February 25th for what is sure to be an informative and fascinating seminar. Registration is open now and we have space for the first 150 registrants. Click the "Register Now" link below to sign-up today!