This event is SOLD OUT. If you are interested in adding your name to the waiting list please email info@yra.org
The OYRA is pleased to announce they are hosting an 8 hour, US Sailing Sanctioned Offshore Safety at Sea Course on February 12th at Berkeley Yacht Club!
This US Sailing Sanctioned Offshore Safety at Sea Course will be Moderated and taught by Chuck Hawley. The registration fee is $150 and includes lunch. You can register electronically HERE.
US Sailing Sanctioned Offshore Safety at Sea Courses are designed for sailors of all types and levels — cruisers and racers, novices and experts. The course is appropriate for a wide range of boats — small, big, monohulls, multihulls (and powerboats, too) — that are sailed anywhere — near shore and offshore. The curriculum is certified by US Sailing, with special attention to the conditions and challenges of our sailing area. The certification from this course is good for five years.
Unsure of whether or not you need to get an offshore certification for a Bay Area ocean race? You can get more info on the different course options, what courses are being offered locally, and which certifications the different ocean races require by checking out our Safety At Sea Courses page.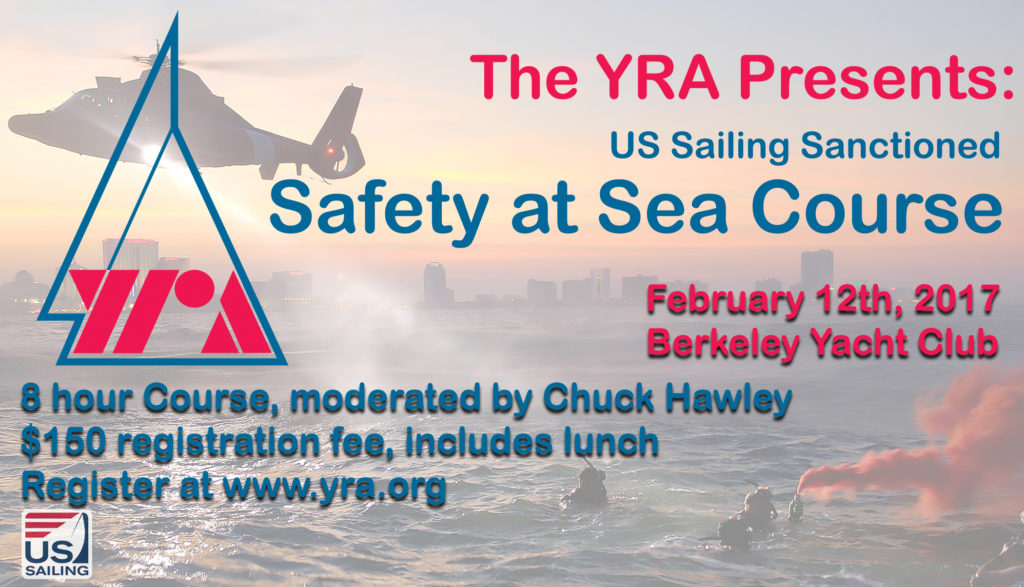 Have questions about the February 12th course? Contact the YRA Office at info@yra.org.