This year's Great Vallejo Race is going to be EPIC!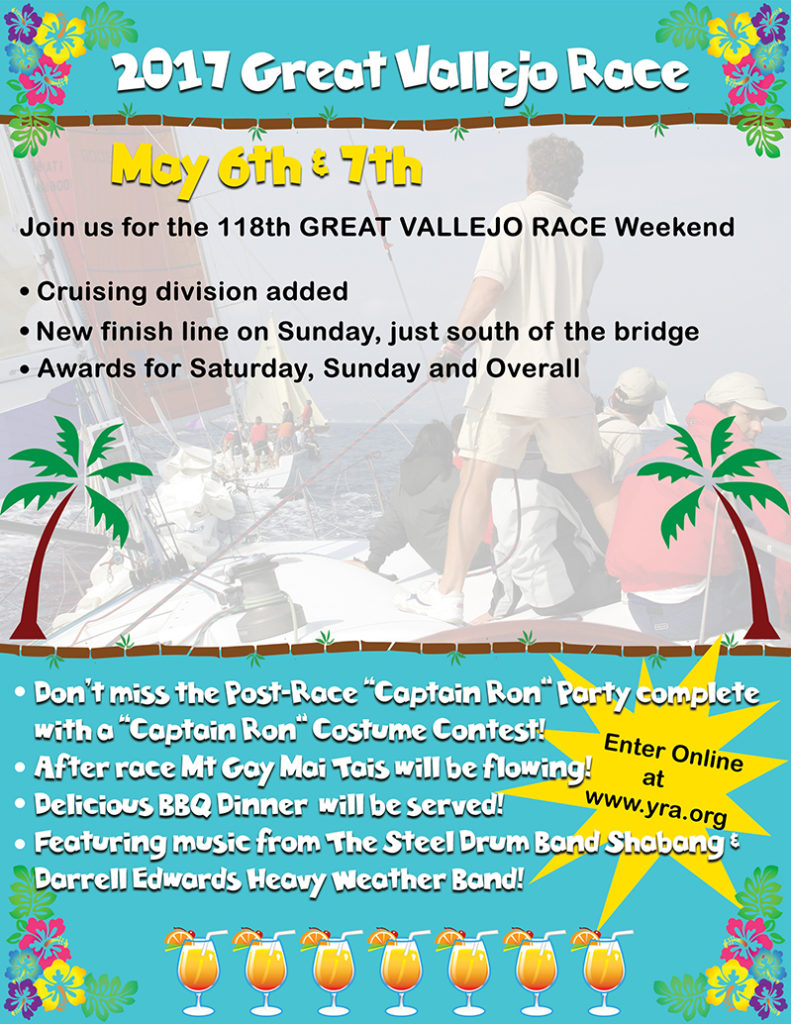 May 6th & 7th – Don't Miss it!
We're just one month out from the 2017 GVR and we've got great racing planned for Saturday and Sunday, including a new finish line on Sunday in deeper water off Paradise Cay, just south of the Richmond Bridge. Overall awards for the complete weekend will be awarded again this year, in addition to the flags for Saturday and Sunday's individual finishes.
The after race party is NOT to be missed. Vallejo YC has a Captain Ron party planned, with Mt Gay Mai Tai's, a Captain Ron Costume Contest and live music from the steel drum band Shabang and the always popular Darrel Edwards Heavy Weather Band. A delicious BBQ dinner will be served up by the clubhouse too.
There will be 7′ of water at low tide in the YC Harbor this year, so most boats can be accommodated at VYC. The municipal marina has been recently dredged as well and the K dock should be able to take boats requiring more water (please contact the Vallejo Municipal Marina directly about berthing at the K Dock)
Racing starts at 11 am both days. We've got a division for every racer- from boats racing under PHRF to Sport Boats to Multihulls to One-Design fleets.
Not sure if racing is your thing? Join in on the fun in the new Cruising Division!
REGISTER TODAY!
View the NOR HERE