Welcome to the 2018 YRA Racing Year!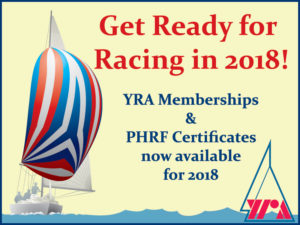 2017 has been a great year for the YRA, and we're looking forward to an even better year ahead. Be a part of the fun and get registered now. YRA Memberships and PHRF Renewals are now available! You can register for a 2018 YRA Membership and a new certificate, or renew an existing certificate, online. Just CLICK HERE to be taken to Jibeset.net, our online registration system.
Have changes that need to be made to your boats current configuration? Contact the YRA Office at info@yra.org for info on how to submit your changes and renew your certificate. Have a boat that hasn't had a Northern California PHRF certificate in the past? CLICK HERE to download our 2018 Application. You can email completed applications to info@yra.org. Don't hesitate to contact us if you've got questions on how to renew or get a new certificate.
Renew early ahead of the January rush!
Race Sign-ups are also open for the 2018 CBRA Series, the 2018 OYRA Series, and the 2018 YRA Summer Series. Sign up today!